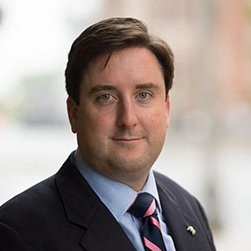 Jack O'Donnell is an expert in New York State politics and government whose extensive experience in politics includes campaigns for former President Bill Clinton, Governors Eliot Spitzer and David Paterson, Senators Chuck Schumer and Hillary Clinton, and numerous statewide and congressional campaigns.
In government, O'Donnell served as Director of Intergovernmental Affairs for United States Senator Chuck Schumer and as Senior Policy Advisor to the New York State Comptroller.
Jack founded O'Donnell & Associates to offer clients a solutions-focused approach to government relations and public affairs. He helps clients pass—and stop—legislation, solve complex regulatory matters, craft multi-million dollar economic development packages, and win state awards and grants including multi-billion dollar procurements.
A regular contributor to political programming on both radio and television, Jack's insights and analysis have appeared in The New York Times, Buffalo News, and other leading media organizations. O'Donnell has served as an adjunct faculty member at Canisius College and has been honored as a rising leader by both Buffalo's Business First and City & State.
The recipient of a life-saving organ donation, Jack O'Donnell is the founder of Transplant Miracles Foundation, a non-profit organization providing support to transplant recipients and their families. He is a board member of Upstate New York Transplant Services (UNYTS) and Buffalo Niagara Waterkeeper; a trustee of the Buffalo Olmsted Parks Conservancy; and President of the Buffalo Police Foundation.
Mr. O'Donnell is an honors graduate of Canisius College and the State University of New York at Buffalo Law School. He and his wife Marina, and their children Thomas and Elsie, divide their time between Buffalo and New York City.