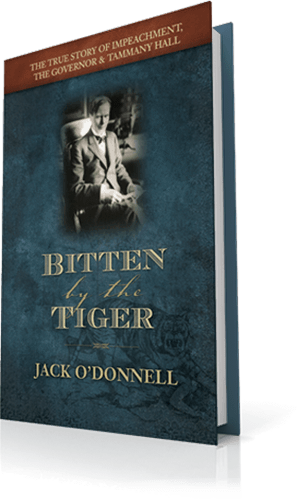 Bitten by the Tiger
The True Story of Impeachment, the Governor and Tammany Hall
by Jack O'Donnell
"A vivid tale. Reads like a thriller. Hard to put down."

~ The South Buffalo News
"Bitten By The Tiger" is an absorbing, intelligent, and sometimes startling account of a vanished era. The time is long gone but the story offers a unique window into politics. It will appeal to history buffs, and anyone who seeks to understand politics today.
~ The Front Page Newspaper Group
"Bitten By The Tiger" by Jack O'Donnell is an insightful take on a fascinating, but too-dimly understood, character in New York's rich political history -- and it is an even better read. I would expect no less from a political professional of Jack's caliber; He was an integral part of the team that vaulted me into the United States Senate and that subsequently built the foundation for my successful first term. It is even more revelatory to see him apply that rare acumen to the written page."
~ United States Senator Charles E. Schumer
"It's remarkable that this story which was national news at the time is little more than a political footnote, even in the Empire State. This is a must read for any student of New York politics and should be required reading for all state lawmakers."
- Bob Hardt, NY1 Political Director
"Mr. O'Donnell, who as an Albany lobbyist is thoroughly familiar with power-brokering in New York, minces no words"..."The saga of Gov. William Sulzer's impeachment a century ago cannot be told often enough, both as an object lesson and as urban melodrama. Jack O'Donnell's "Bitten by the Tiger" is a welcome addition to the growing genre."
- Sam Roberts, The New York Times